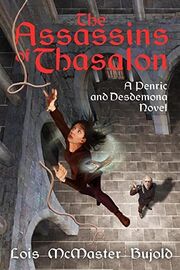 The Assassins of Thasalon, set approximately two years after The Physicians of Vilnoc, is available as of May 11, 2021. It is novel-length, approximately 85000 words, sold as an indie ebook.
Publisher's Preview
[
]
An unholy attack upon his brother-in-law General Arisaydia pitches sorcerer Learned Penric and his Temple demon Desdemona headlong into the snake-pit of Cedonian imperial politics. But they will not travel alone. The mission from his god brings Penric some of his strangest new allies yet, and the return of some of his most valued old ones.
This novel-length story takes place two years after the events of "The Physicians of Vilnoc".
Plot overview
[
]
Upon receipt of a request from Princess Laris and Lord Nao, by General Gria, to return to his General's duties for Cedonia, Adelis Arisaydia arranged to meet with Penric and Duke Jurgo to decide what actions to take.
The emperor of Cedonia had died some months back of natural causes, but several other deaths soon afterwards seemed less natural. A five-person Regency had been arranged for the 9-year-old boy who was slated to inherit the throne; it was looking decidedly unstable. The meeting did not produce any decisive result, but as they were heading out, an apparently-washerwoman tried to kill General Arisaydia using a blast of chaos from a brand-new demon. Desdemona broke the attack up just as it was hitting him: the sorceress ran off and the General collapsed on the pavement.
"I don't care to be driven, especially into a ditch. But if I must, I'm going to hold the bit in my own bloody teeth."
―Adelis decides to return to Cedonia
General Arisaydia was not badly hurt. This being the second attack in a few weeks, he decided it was time to return to Cedonia and bring an end to the problem. Duke Jurgo, offended at an attack right on his doorstep, offered him a sloop to carry him back by an unsought-for route. He and General Gria were on their way the following evening. Meanwhile Penric arranged a trap in hopes of capturing the sorceress. She fell into it; he captured her and put her in the only bottle dungeon he knew of in Orbas.
Upon questioning Alixtra the sorceress, Penric learned she'd been trapped into the job and was very frightened for her five-year-old son Kittio, who would be castrated and sold as a slave if she failed to kill the General. Three days later, a Saint of the Bastard arrived, Iroki, intending to remove the demon. Instead, the Bastard informed them that she was to keep it as she would be needing it. Now that she was not to be executed after all, Penric concluded that the Bastard wanted them all to go to Cedonia to carry out some tasks: rescue her son and bring the Saint in front of the temple sorcerer who was in charge of her, Learned Tronio. The three of them were on their way the following morning.
Penric used the week of travel teaching Alixtra as much as he could about how to be a sorcerer. Iroki took interest in learning as well. They reached the Xarre estate, and got admittance to see Tanar and Lady Xarre via Surakos Bosha, their devoted servant.
"I'm not best pleased, you know, that you brought an assassin to my lady's table without warning me.
...
What, and here I thought you sat down with her every day."
―Bosha's opinion of Alixstra and Penric's response
Lady Xarre worked out a plan for Penric and the others' goals: they would attend a party at Methani's palace, where Alixtra's quarters were and where Learned Tronio was likely to be in attendance. Alixtra and Bosha retrieved Kittio; mother and son left the party while Bosha stayed behind. Penric and Iroki, however, had no luck finding Tronio - instead they found a brand-new ghost who they determined was sundered: none of the gods wanted him. They soon learned the ghost was Minister Methani, who then managed to get the attention of a local sorcerer, leading rapidly to the discovery that he'd been poisoned and that the weapon used exactly matched a set of similar ones held by Bosha. Bosha was arrested, and Pen and Iroki returned to the estate with their tale.
There, they learned it had been Tanar herself who had killed Methani. At this point, Lady Xarre decided to send Penric to Princess Laris and Lord Nao to inform them of developments and have Bosha transferred to Nao's own custody as one of the five (currently four) Regents. However, the attempt to collect Bosha from the Imperial Prison failed - Methani's nephew Lord Bordane, another Regent, had already collected him. Penric went to Lord Bordane's home and found Bosha being interrogated/tortured by Tronio. Iroki not being present, Tronio escaped.
Penric and his companions took Bosha to Lord Nao's home and treated his injuries. The following morning, Tronio brought a group of Temple soldiers/police and sorcerers to attack the Xarre estate, intending to capture or kill Penric. Iroki walked up to Tronio and removed his demon.
"'I'm Iroki,' said Iroki amiably, but his eyes were not at all friendly. Or human. 'You're done,' said… not-Iroki."
―The Bastard has His say
Tronio was imprisoned and Penric and the Xarres took to cleaning up their home from the incursion. Adelis Arisaydia arrived, very much pleased not to have to attack a nine-year-old boy, and married Lady Tanar two weeks later. Afterwards, Penric, Iroki, Alixtra, and her son Kittio returned to Orbas with a new mastiff puppy.
Major characters
[
]
Supporting characters
[
]
Minor characters
[
]
Rach
General Gria
Stobrek
Duke Jurgo
Kittio
Arra