Darthaca
is a nation to the south and beyond a mountain range from the
Ibran peninsula
. The independent high marchdom of
Yiss
occupies one part of the border between them.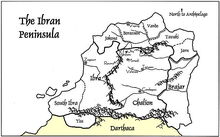 Darthaca also borders the
Weald
and the
Cantons
.
The inhabitants speak Darthacan, which is considered a difficult language to learn. Perfume from Darthaca is valued.
Behind the scenes
Edit
When mapped to Earth, Darthaca's location roughly corresponds to that of France.
References
Edit