Welcome to the Five Gods Wiki
Chalion Wiki (aka Five Gods Wiki) is a collaborative website to explore the universe of the Five Gods, as revealed by author Lois McMaster Bujold.
We explore the World of the Five Gods (also called the Chalionverse, and the Five Gods Universe (5GU)), as revealed by Lois McMaster Bujold.
News:
The 11th Penric tale is expected soon!
For a discussion of The Curse of Chalion by 4th Street Fantasy, June 20, 2021: see here.
Random Quote
"Prayer, he suspected as he hoisted himself up and turned for the door, was putting one foot in front of the other. Moving all the same."
See also Quotables
Places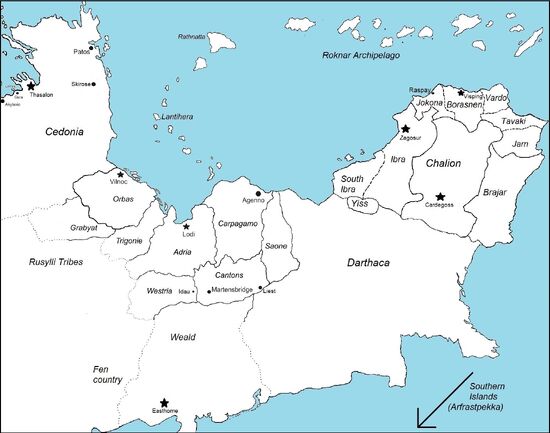 For a slightly different map, see this blog entry. Thoughts?
Editing Notes
Latest Activity
The Tales
User Blogs
Lois's statement to list readers, Tuesday June 22, 2021:
At the risk of explaining how sausages are made, it might also help to think of the 5GU gods, as I do, as emergent properties of the world. Not…
See more >