Chalion Wiki (aka 5GodsWiki) is a collaborative website to explore the universe of the Five Gods, as revealed by author Lois McMaster Bujold.
Welcome to the Chalion Wiki
Chalion Wiki explores the World of the Five Gods (also called the Chalionverse, and the Five Gods Universe (5GU)), as revealed by Lois McMaster Bujold.
Masquerade in Lodi, a story set about a year before Penric's Mission, is available as of October 15, 2020.
Random Quote
See also Quotables
Places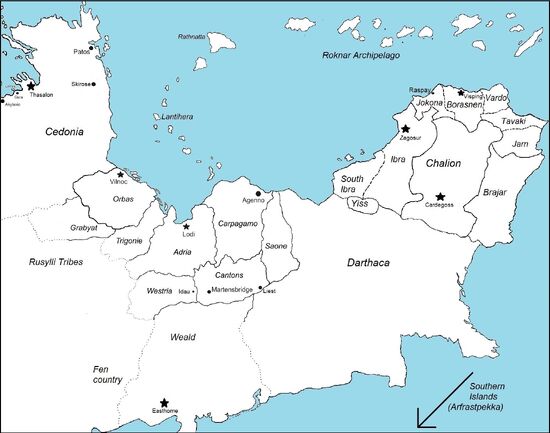 For a slightly different map, see this blog entry. Thoughts?
Editing Notes
Latest Activity
The Tales
User Blogs
I am seeking comments. I have "better" maps that more accurately reflect what Lois wanted (that I didn't give her until too late to go into Orphans of Raspay). The problem is that they are *not* what…
See more >
Community content is available under
CC-BY-SA
unless otherwise noted.